New 2018

RANGE ROVER
Exec 4x4 Hire specialise in Range Rover vehicle rental providing the opportunity in offering a great choice of rental Packages for all models of Land Rover including the Range Rover Sport, Vogue and Velar. Each of our vehicles are acquired directly from Land Rover Dealership undertaking many modern upgraded features. We reward our customers with a variety of options including colours, body styling and preferred engine type and soon introducing the Hybrid engine. With a combination of advantages including the option of delivery throughout the United Kingdom we are able to offer all customers the perfect rental experience deserved when renting such exclusive vehicles.
About US
Welcome To
EXEC 4X4 & RANGE ROVER HIRE
Specialising in Land Rover Hire throughout the UK
Range Rover Rentals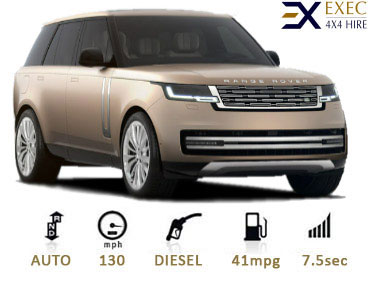 THE RANGE ROVER
The Ultimate Range Rover, first introduced 40 years ago is world renowned for being the most luxurious SUV to date. It provides the finest of interiors with many hi-tech features, including incredible 4x4 capabilities earning a reputation no rival can match. The Range Rover benefits many bespoke refinements, a Panoramic sliding roof, deployable side steps, hand crafted heated leather and all terrain driving modes. The Range Rover creates the most impressive overall driving experience and is our customers favourite choice of Land Rover and proves extremely popular during peak season.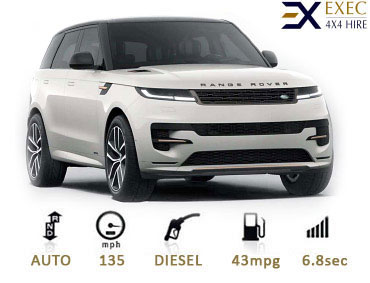 RANGE ROVER SPORT
The Range Rover Sport (Most Dynamic) has built a reputation from its ability of high performance handling with its dynamic cornering stability The luxurious interior and powerful SVR Engine the Range Rover Sport is one of the most exciting Land Rover vehicles to drive. The diesel SDV6 offers ample power with an output of 288bhp and fully automatic transmission. The cabin has a very spacious feel however space is limited compared to its big brother the Range Rover. The Range Rover Sport becomes very popular during high seasons with availability becoming limited.
Land Rover FLEET
Our latest impressive Land Rover fleet includes the Range Rover, Range Rover Sport, Discovery-5, Discovery-4, Range Rover Velar and the Land Rover Defender. With the ability to offer the UK's favourite 4x4 vehicles we believe "Exec 4x4 Hire" are one of the leading Land Rover rental businesses within the United Kingdom. All vehicles within our fleet are updated to the latest facelifts that Land Rover introduce. Our long trusted relationship with Land Rover offers the advantage in providing new vehicles avaiable for hire almost immediately after hitting the UK roads.


Exec 4x4 Hire offer all reservations the option to use our efficient delivery service providing a door step vehicle handover anywhere throughout the UK. Our vehicle dispatch team will arrive at the arranged time and location providing updates before their arrival. Our Airport meet and Greet is the ideal way to arrange collection at any UK airport terminal including London Heathrow, Gatwick and both Midlands Airports. Our Executive service can also communicate direct with the customers aviation management when using private Jet terminals so your vehicle is ready waiting immediately when exiting the aircraft.